For years, drugs and corruption thrived in the Philippines as policymakers engaged in external adventures ignoring domestic investment. The Duterte government is fostering a historical investment drive, while seeking to defuse the threat of drugs and corruption. So why is it penalized in the West? 
Recently, President Duterte said that people should look to the Central Intelligence Agency (CIA) in case anything happens to him, referring to the US criticism against the war on drugs in the Philippines. "If my airplane explodes or a roadside bomb goes off, you can ask the CIA," he said.   
Timing matters. After former US Ambassador Philip Goldberg left Philippines in the aftermath of the 2016 election, he allegedly wrote a "blueprint to undermine Duterte within 18 months" – we are amid the deadline period.
Why the drug trade was ignored               
Ironically, Duterte has taken the drug problem seriously, as most Filipinos whose neighborhoods have been invaded by drugs for more than a decade, particularly in the President Aquino III era. During the period, the drug problem was downplayed by the mainstream media and largely ignored by international media. As a Google Trend search demonstrates, it was only when Duterte began the war against the drugs that critics awoke, as evidenced by soaring story mentions about the Philippines and drugs in international media, mainly in the US and Europe (Figure).
Figure The Long silence about PHI drugs invasion until the Duterte Era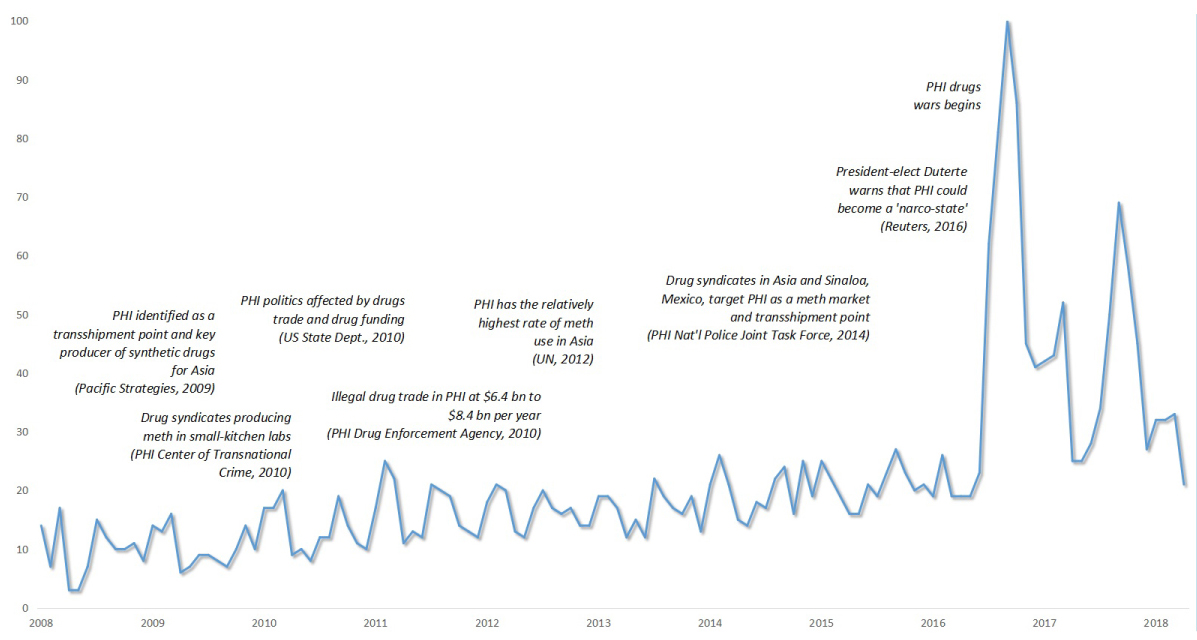 Sources: Google Trends; various Philippines, international, US and UN Sources
Under the watch of President Aquino and his Liberal Party (LP), drug syndicates began to produce meth in kitchen labs, which caused illegal drug trade to soar to $8 billion. US State Department warned drug trade and funding affected Philippines politics, as corruption undermined the rule of law. Yet, drug syndicates in Asia and Sinaloa, Mexico, saw the Philippines transshipment potential. The Discovery Channel showed drug trade and gang leaders' luxurious life in the New Bilibid Prisons, with the involvement of former Justice Secretary Leila de Lima who allegedly received millions of pesos in payola money from drug lords.
Feature image: President Donald Trump talks with Philippine President Rodrigo Duterte before the Asian summit in Manila on Monday. (Mark R. Cristino / AFP – Getty Images)
About the Author

Dr. Dan Steinbock is an internationally recognized strategist of the multipolar world. and the founder of Difference Group. He has served as at the India, China and America Institute (USA) , the Shanghai Institutes for International Studies (China) and the EU Center (Singapore). For more, see https://www.differencegroup.net/ 
 The original commentary was released by The Manila Times on April 9, 2018.
The views expressed in this article are those of the authors and do not necessarily reflect the views or policies of All China Review.