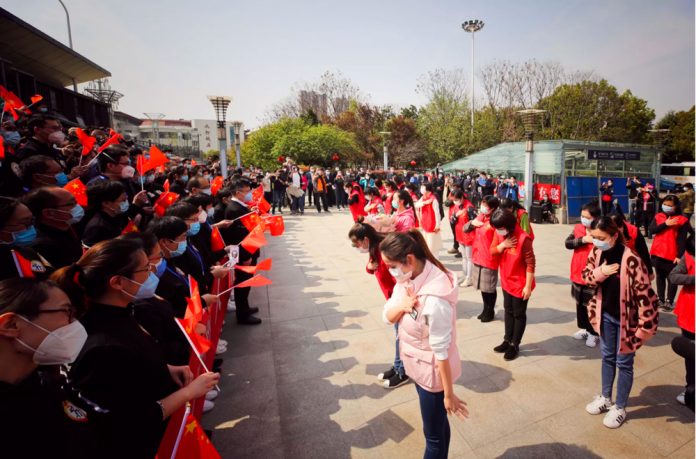 Today I'd like to share with you some ideas about important life lessons we can learn from China's response to the coronavirus. And at the end, I'd like to share some encouraging insights from foreigners who lived in China over a century ago. If you understand the spirit of ancient China, and why foreigners had such great respect for both China's government and people, you'll also understand why Chinese today are able to tackle such formidable foes as poverty, hunger, and the borderless battle with the coronavirus.
An American asked his friend, "Did you quit shaking hands because of the virus?"
"No," he said, "I quit because everyone is out of toilet paper."
I'm glad people still have a sense of humor! But what is not at all funny is that some of the wealthiest nations not only lack toilet paper but also still don't have virus test kits even 10 weeks after China shared the virus' genome with the world. Why on earth are these nations so unprepared?
Even a little logic should have suggested the virus was coming, but they not only did not prepare but also went to great lengths to explain why their "democracies" could not take China's lead. Even a week ago, Western media was writing of how China's draconian measures such as quarantines and restrictions on travel deprived people of their basic rights of freedom of movement. But fast forward to today and the news is trumpeting that the epidemic is now a pandemic and governments are falling over themselves to take many of China's measures. Places like San Francisco are of course careful to avoid the word "quarantine," which violates people's inalienable right of movement, but they ordered people to "shelter in place", which may sound kinder and more "democratic" but violations are a "misdemeanor punishable by fine, imprisonment, or both." Sounds to me like, however you word it, it is still restricting people's movement—and these restrictions are needed, so why pretend they are not?
The only logical reason that nations could spend months criticizing China while doing nothing themselves is that they naively felt they were in no danger. But this is understandable, given our immersion today in an artificial world of social media. We are bombarded daily with so much bad news that tragedies afar off are no more real than a reality TV show or a movie.
It also seems that people living in comfort in the wealthier nations have a sense of entitlement, and believe that their wealth will continue to shield them from some far off virus even as for decades their wealth and militaries have insulated them from the wars, crimes and political unrest that kill tens of millions each year in poor nations. As the younger President Bush once declared, "Nothing will change our American way of life!" But it appears the coronavirus never got Mr. Bush's message.
In 1990, I thought it ironic that a Japanese strategist, Kenichi Ohmae, would write a book entitled, "The Borderless World." He claimed that trade was open and free for all nations, even though his own home of Japan has some of the most rigid cultural, political and economic barriers in the world. Even today, trade is not borderless, and probably never will be—but the coronavirus truly knows no borders. Rich and poor alike fall before it—though the elderly, the weak and the poor are hardest hit.
Fortunately for the world, while the West protected people's "rights" by doing nothing, China acted immediately, without excuse or apology or mincing words, to protect peoples' most fundamental right—the right to life. And only yesterday, China began testing a vaccine and has already promised that, if successful, they will share it freely with the world.
And even as the Chinese government resolutely sacrificed its economy to tackle the problem head-on, the Chinese people also rose to the occasion and cooperated because, quite frankly, they well know they are mortal. Chinese value comfort and convenience as much as any other people, but they remember all too vividly the poverty and sickness that haunted their nation only decades earlier. Chinese agree with their government that if they lose that most fundamental right of life, all other rights are useless. And to preserve that most precious gift of life, Chinese have always been able to tighten their belt and endure hardship like no other people in history.
In closing, I will share foreigners' comments about China and Chinese from some of my hundreds of 19th and 20th century books. You will be as astonished as I was at how much the Westerners admired the Chinese nation and people over the centuries. And if you understand the spirit of China through the ages, then you'll also understand how and why the world's most populous nation today dared to tackle and defeat this epidemic head on. Chinese today, like their ancestors, embrace life—and just as importantly, they embrace life with those they love, and this is why Confucian society over the ages has been built on family and relationships. 
Dying people around the world have been asked what they most regret in life, and they never lament that they did not make more millions or spend more time in the office. Consistently, their greatest regret is that they did not spend enough quality time with the people they loved.
So if you've survived the coronavirus (if you didn't, I'm impressed you're reading this), celebrate life and "seize the day"! 爱拼才会赢! But when you seize life, don't let go of those you love because life is too short to not live fully.
加油中国!              
---
Amoy Zest For Life (Mackenzie-Grieves, 1959; English lady lived in Xiamen in the 1920s)
"In this, our first year in China, an astonished excitement possessed us…
I had felt the impact of this immense vitality the moment I first set foot in Amoy. I came upon it by no rational process, no social studies. I met the tide of lusty and abundant life full in the face, with all its primitive urges undiluted. It was a life, at times, frightening in its force. It needed to be strong to survive such human miseries as it daily faced.
厦门人的生活激情   (麦肯兹•格瑞芙,1959年)
"中国第一年,我们充满着惊奇和激动。。。
一踏上厦门,我就感受到这种巨大生命力的冲击。没有经过理智的思考,也未通过社会学的研究,我承受了这种冲击。我在这里正面遭遇了一种生机勃勃、色彩斑斓的生活,拥有所有纯净的原始冲动。这就是一种生活,能量总是惊人的。要想在每日所面临的人间苦难中幸存下来,你得必须祖国坚强。                
Philosophical People (Rose Talman, Amoy Missionary, 1916-1930, unpublished memoirs)
To their conditions they have developed responses–frugality (nothing wasted in China), patience, industriousness, sense of humour–a philosophical approach to the realities of life. These are the qualities that make the Chinese tough and persevering and give them the will to love and fight against poverty. The Chinese enjoy few luxuries in material things. They are not an acquisitive society. The people yearn more for peace and stability–a climate for work rather than affluence or wealth for the sake of pleasure. There is a great difference in the psychology of Eastern and Western society.
达观的民族 (罗斯•塔尔曼,厦门传教士,1916-1930年,摘自其未公开的笔记)
根据实际情况,中国人作出了自己的反应–节俭(在中国,没有一样东西被浪费)、忍耐、勤劳和幽默。这是中国人应对现实生活的一种达观的策略。就是这些品质使得中国人变得坚强、忍耐,并赋予他们爱和对付贫困的意志。从物质上来说,中国人并没有享受什么奢侈的东西。一踏上厦门这块土地,我就感受到这种强大生命力的冲击。我得出这个结论并不是靠什么理性的分析,也不是通过社会学的研究。中国不是一个四处索求的国家。这个民族期盼更多的是和平与稳定。这里盛行的是劳作,而不是为享乐而拥有财富或富足。东西方社会之间的心理有着很大的差别。
Right Attitude to Life (Ch'en Sze-ching, Fukien Christian University graduate, 1926)
"Fukien has taught me how to live. Material things can be acquired anywhere in this material world, but an attitude to life can only be mastered in the right environment. Fukien provided such an environment for me."  
对待生活的正确态度   (陈哲清,福建协和大学毕业生,1926年)
"福建教会了我如何去生活。在这个现实的世界里,物质的东西随处可取,但对待生活的态度只能在合适的环境中养成。福建给我提供了这样的一个环境。"
Oriental Spartans (John Macgowan, British Missionary in Xiamen, 1907)
Take the matter of pain. He [a Chinese] bears it with the composure of a saint. The heroic never seems to come out so grandly in him, as when he is bearing some awful suffering that only a martyr could endure.
…It is this same absence of nerves that enables the Chinese to bear suffering of any kind with a patience and fortitude that is perfectly Spartan. He will live from one year's end to another on food that seems utterly inadequate for human use; he will slave at the severest toil, with no Sunday to break its wearisome monotony, and no change to give the mind rest; and he will go on with the duties of life with a sturdy tread and with a meditative mystic look on his face, that reminds one of those images of Buddha that one sees so frequently in the Chinese monasteries or temples… The staying power of the Chinese seems unlimited. The strong, square frames with which nature has endowed them are models of strength.
东方的斯巴坦人   (麦嘉湖,1907年)
能够承受痛苦的事情,他们象圣人那样忍耐。在他们身上,没有轰轰烈烈的英雄气概,特别是当他们正在承受着只有勇士才能担当的某些沉重苦难。。。
       ……正是上述的优良品质使得中国人能够耐心、坚定地忍受任何形式的痛苦。这种忍耐是彻头彻尾的斯巴坦人。他们常年吃的食物都是那些完全不适合人类食用的东西。他们愿意承担最辛苦的劳动,没有星期天来调节疲惫和单调,没有时间让大脑休息。迈着坚定的步伐,脸上一副沉思的神秘模样,他们继续担当着生活的重任。这让人想起中国寺庙里很常见的菩萨的形象……中国人身上的潜力似乎是无限的。造化赋予他们强壮、魁梧的身躯是力量的象征。
The Adaptable Chinese  ( John Macgowan, English missionary in Xiamen, 1907)
The strength of the Chinaman lies in his power to adapt himself to the circumstances in which he may be situated. Place him in a northern climate where the sun's rays have lost their fire, and where the snow falls thickly and the ice lays its wintry hand upon the forces of nature, and he will thrive as though he had descended from an ancestry that had always lived in a frozen region. Transport him to the torrid zone, where the sun is a great ball of molten flame, where the air is as hot as though it had crossed a volcano, and where the one thought is how to get cool in this intolerable maddening heat, and he will move about with an ease and a comfort just as if a sultry climate was the very thing that his system demanded.
He is so cosmopolitan in his nature that it seems to be a matter of indifference where he may be or what his environment. He will travel along lofty peaks, where the snows of successive winters lie unmelted, or he will sleep in a grass hut where the fever-bearing mosquitoes will feast upon him the livelong night to the sound of their own music, and he will emerge from it next morning with a face that shows that the clouds of anopheles have left him a victor on the field. He will descend into the sultry tin mines of Siam, and at night he will stretch himself on the hard, uneven ground, with a clod for his pillow, and he will rise as refreshed as though he had slept on a bed of down.
适应能力强的中国人   (麦嘉湖,1907年)
中国人的力量再于他们拥有能够适应各种环境的能力。把他们放在北方,那里太阳不再炎热,积雪深厚,寒冰的魔爪染指大自然,中国人照样人丁兴旺,似乎他们来自远古时代,总是生活在冰封地冻的世界里。把他们放到热带,那里太阳简直就像一团巨大的火球,空气热得跟火山岩浆没有什么两样,常人想的都是如何躲避那令人无法容忍、让人发狂的热气,找到清凉,而中国人却漫不经心、舒适无比地四处走动,好像这酷热的天气正是他们的身体所需要的。
       从本质上来看,中国人四海为家。他们似乎不在意自己身居何处,环境如何。他们会去攀爬冰雪常年覆盖的高峰,或是过夜茅屋,任凭身带热病的群蚊翩然起舞、彻夜叮咬,次日起床一副战场凯旋而归的模样。白天,他们深入暹罗闷热、潮湿的锡矿。晚上,他们以泥块为枕,凹凸不平的硬地板作床,伸足而眠。第二天起来精神十足,好像前一天是睡在羽绒床上。
Timeless People   (John MacGowan, English missionary in Xiamen, 1907)
One advantage the Celestial has over the Occidental is what may be called his absence of nerves. The rush and race and competition of the West have never yet touched the East. The Orient is sober and measured, and never in a hurry. An Englishman, were all other signs wanting, could easily be distinguished, as he walks along the road, by his rapid stride, the jerky movements of his arms, and the nervous poise of his head, all so different from the unemotional crowd around him, who seem to think that they have an eternity before them in which to finish their walk, and so they need not hurry.
缺少时间观念   (麦嘉湖,1907年)
缺少时间概念这根弦是东方人胜过西方人的一个地方。西方人又冲又跑,竞争激烈,东方人并不为之所动。东方人冷静、从容,从不着急。英国人走路大步流星,双臂动作急猝,头部姿势游移不定,与周围平静的行人大不一样,很好辨认。他们似乎在想,有来世可以完成旅程,因此,无须匆忙。
Ancient People of the Future (Mary Gamewell, 1919)
China is not like ancient Egypt, whose greatness has departed though she still lives on. China is a vital force whose largest possibilities of development lie before and not behind her. A new fresh life is beginning to course through the nation's veins….
一个古老民族的未来   (甘威尔,1919年)
中国不是古埃及。尽管古埃及依然存在,但她伟大的历史已经成为过去。中国是一股充满活力的势力。最大的发展空间还没有成为历史,而是正展示在她面前。一种崭新的生活正在这个国家的血管里流淌……
Eternal China (Maclay, 1861)
It is a noteworthy fact that of all those ancient empires founded immediately subsequent to the deluge China alone remains. The Assyrians, Egyptians, and, in later times, the Grecians, have severally attained to a comparatively high degree of intelligence and refinement; but their star soon culminated and sank into utter darkness. China, however, has never been wrecked, her civilization has never retrograded; paradoxical though it seems, her star has remained in its zenith for at least three thousand years. Through all this long lapse of centuries the Chinese have kept up, fairly and steadily, to their original civilization; and to-day they present all the essential elements of those social, literary, and political traits which characterized them in those early epochs when the Assyrians built their magnificent cities, the Egyptians developed their subtle theory of the metempsychosis, or the Greeks were thundering at the gates of Troy.
The permanence of Chinese institutions is worthy of notice in this connection. It is a significant and singular fact that, from the earliest period of their authentic history to the present time, the Chinese have preserved intact and inviolate every important feature and principle of their government and civilization. The successive irruptions of northern barbarians have neither abrogated nor essentially modified Chinese institutions. The conquering races who have overrun those fertile plains have stood abashed in the presence of a superior civilization; and after subduing the empire, they have invariably adopted its government, laws, civilization, and language.
(If the above insights on China don't make you proud, nothing will! 爱拼才会赢!)  
永恒的中国 (麦考利,1861年)
一个值得注意的事实是,所有古代帝国建立不久就立即走向衰亡,唯独中国得以续存。亚述人、埃及人以及后来的希腊人都曾发展过相对高级的文明和修养,但他们的星光很快就触顶,并迅速地消失茫茫的夜空中。但是,中国没有遭受过严重破坏。中华文明还未曾出现过倒退。似乎有些反常,中国这颗文明之星已经在自己的天顶保持了至少3000年。在过去的数百年里,中国人一直在恭俭、稳步地延续自己的文明。亚述人建过宏伟的城市,埃及人创立了灵魂转世的深奥理论,希腊人曾经在特洛伊城门外发威。这些文明古国在社会、文学和政治等领域所取得的成就,中国样样具备。
       中国人的体制一直没有变化。关于这点,是值得我们注意的。一个显著而又奇特的事实是,从信史所记载的远古时代到现在,中国人完整保留,并且没有违背了其政府和文明的任何一个重要特征和规则。北方游牧民族持续不断的骚扰也没有使中国的体制毁灭或被彻底修改。马背上的游牧民族在占领肥沃的平原之后,面对高度发展的文明局促不安。实现征服之后,他们最终选择了原来的政府、法律、文化和语言体系。
SOURCES
The quotes are all taken from my books, "Old Gulangyu in Foreigners' Eyes," 《老外看老鼓浪屿》, Xiamen University Press, and 《商业老厦门》, also XMU Press. The Chinese translations are from those two books, which were both bilingual.
Averil Mackenzie-Grieves Mackenzie-Grieve, Averil, "A Race of Green Ginger," Putnam, London, 1959
Rose Talman   Talman, Rose H., "Our China Years, 1916-1930," unpublished notes, provided by Sarah Koeppe.
MacGowan   Macgowan, Rev. John, "Men and Manners of Modern China," T. Fisher Unwin, London, 1912. use, 43 Gerrard Street, W. 1907
Ch'en Sze-ching, 1926 quoted in Scott, Roderick, "Fukien Christian University," United Board for Christian Colleges in China, NY, 1954.
Maclay   Maclay, Rev. R. S., "Life Among the Chinese: With Characteristic Sketches and incidents of Missionary Operations and Prospects in China," Carlton & Porter, New York, 1861.
About the Author
William N. Brown is a professor at the Xiamen University MBA Center and Academic Director of its OneMBA program. His latest book is "Off the Wall: How we Fell for China".
The article was first published via http://www.china.org.cn/opinion/2020-03/30/content_75877303.htm.
The views expressed in this article are those of the authors and do not necessarily reflect the views or policies of All China Review.