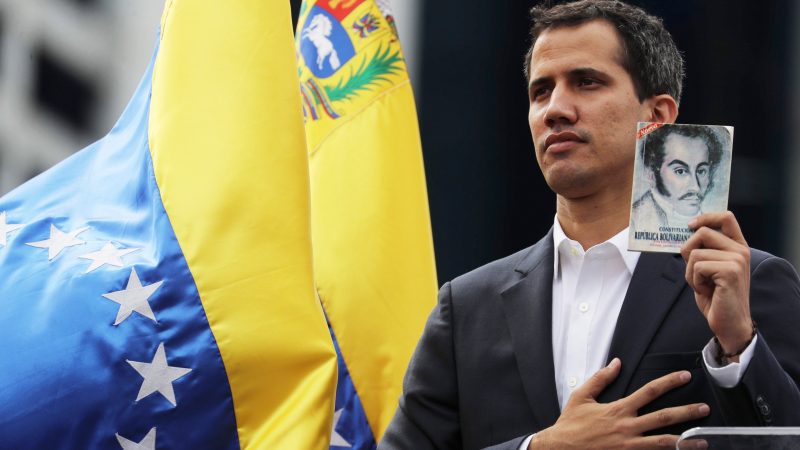 By Peter Koenig
On 23 January 2018, the United States has initiated a coup against President Nicolás Maduro and his Government, by encouraging and fully supporting the "self-proclaimed" opposition leader, Juan Guaido, as interim President. Already days ago he had received the full support of President Trump, and today, in a special televised speech, US Vice-president Mike Pence declared that Venezuela's Freedom begins with the new interim president, Juan Guaído https://www.foxbusiness.com/politics/venezuela-established-its-freedom-with-new-interim-president-juan-guaido-vice-president-mike-pence.
RT reports that "the Venezuelan military will not accept a president imposed by 'dark interests', Defense Minister Vladimir Padrino said after Washington and a number of its allies recognized a lawmaker [Juan Guaído] as the new leader in Caracas."
"The army will continue to defend the constitution and national sovereignty, Padrino said on Wednesday afternoon, hours after opposition lawmaker Juan Guaido was proclaimed interim president by the National Assembly, in a direct challenge to President Nicolas Maduro."
Washington's immediate recognition of Guaido as Venezuelan's legitimate leader, was instantly followed by the Organization of American States (OAS), as well as Canada and France. Mexico apparently has declined to do so "for now". Is the "for now" an indication that Lopez Obrador's actions are already being controlled by Washington?
This is an appeal to Russia and China and to all unaligned nations that love their freedom and sovereignty – to stand up in defense of Venezuela's freedom and sovereignty.
May they use their diplomatic leverage, and if that does not work on Washington's 'savages' – use other means that the empire understands. Keeping Venezuela free from the yoke of the US and its vassal allies – is essential for all the people in Latin America who have already been subjected to US implanted subjugating and abusing dictators, who not only have ruined their countries' economies, but created extreme poverty where there was prosperity before, i.e. Argentina, Brazil, Ecuador, Peru, Colombia, Paraguay, Uruguay – and Chile, which is well on her way to an economic and social demise.
Venezuela must stay and remain tall.
President Putin and Jinping – please do whatever you can and whatever you must, to stop the US bulldozer from overtaking Venezuela!
Ongoing unrest in the streets of Caracas and major Venezuelan cities, all inspired and fueled on by the United States, and also the OAS (Organization of American States), the Club of Lima (except for Mexico), its European puppet allies, is confusing and dividing the people and has already killed at least 16. It is not clear who is responsible for the killing, but undoubtedly opposition forces funded by outside sources and / or the Fifth Column (inside Venezuela) have a bloody hand in the Venezuelan violence. A western instigated civil war is a real risk.
About the Author

Peter Koenig is an economist and geopolitical analyst. He is also a water resources and environmental specialist. He worked for over 30 years with the World Bank and the World Health Organization around the world in the fields of environment and water. He lectures at universities in the US, Europe and South America. He writes regularly for Global Research; ICH; RT; Sputnik; PressTV; The 21st Century; TeleSUR; The Vineyard of The Saker Blog, the New Eastern Outlook (NEO); and other internet sites. He is the author of Implosion – An Economic Thriller about War, Environmental Destruction and Corporate Greed – fiction based on facts and on 30 years of World Bank experience around the globe. He is also a co-author of The World Order and Revolution! – Essays from the Resistance.
Featured image courtesy of: EURACTIV
The views expressed in this article are those of the authors and do not necessarily reflect the views or policies of All China Review.