In the last half-decade, global awareness of and participation in professional coaching have increased. The reason for this is simple: When it comes to enhancing performance and effectively responding to challenges, coaching works.
The International Coach Federation (ICF) defines coaching as partnering with clients in a thought-provoking and creative process that inspires them to maximise their personal and professional potential. Professional coaching focuses on setting goals, creating outcomes and managing personal and professional change. Coaching is, by definition, different from other personal and organisational support interventions, such as consulting, mentoring, training and therapy.
A growing number of individuals have discovered that partnering with a coach can enhance their performance in professional and personal endeavors. In fact, according to the 2014 ICF Global Consumer Awareness Study (see graph below), commissioned by ICF and conducted by the International Survey Unit of PricewaterhouseCoopers LLP, the No. 1 reason consumers cite for participating in a coaching relationship is optimising individual/team work performance (42 percent), followed by expanding professional career opportunities (33 percent), increasing self-esteem/self-confidence (31 percent), improving business management strategies (29 percent) and managing work/life balance (27 percent).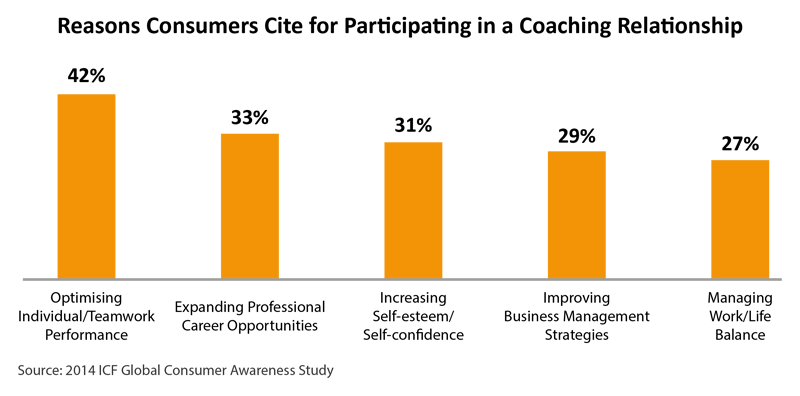 Outstanding organisations are also incorporating coaching into their leadership development and talent management strategies. According to Building a Coaching Culture, a 2014 study conducted by ICF and the Human Capital Institute, businesses and organisations invest in coaching in order to promote leadership development; improve communication skills, teamwork and decision-making; and increase productivity and employee engagement. The organisational decision-makers who responded to the ICF/HCI survey reported a host of positive impacts from professional coaching, including:
• Improved team functioning (81 percent)
• Increased engagement (79 percent)
• Improved employee relations (74 percent)
• Increased commitment (73 percent)
• Faster leadership development (71 percent)
• Increased productivity (70 percent)
If you're considering coaching as a catalyst for your own professional growth or for the growth of your organisation, take the opportunity to reflect on your objectives for the coaching engagement. Being clear on your goals during the hiring process enables you to find the coach best-suited to help you reach them.
ICF recommends that you interview three coaches before you make a hiring decision. Ask each about his or her qualifications, experience and skills, and be sure to request at least two client references.
Consider asking the following questions of each prospective coach:
• What is your coaching experience (number of individuals coached, years of experience, types of coaching situations, etc.)?
• What is your coach-specific training (enrolled in an ICF approved training program, other coach-specific training, etc.)?
• What is your coaching specialty or areas in which you most often work?
• What types of businesses do you work with most often? And, at what levels (executives, upper management, middle management, etc.)?
• What is your philosophy about coaching?
• What types of assessments are you certified to deliver?
• What are some of your coaching success stories (specific examples of individuals who have succeeded as a result of coaching)?
Possession of an ICF Credential is a clear sign of a coach's dedication to professionalism and continuous development. Currently, more than 16,000 individuals hold one of three ICF Credentials distinguishing themselves as consummate professionals.
If you are partnering with an ICF-credentialed coach you can be sure you're working with the best in the industry. An ICF Credential-holder has fulfilled rigorous education and experience requirements and demonstrated a strong commitment to excellence in coaching. To be eligible for an ICF Credential, a coach must complete coach-specific training; achieve a designated number of coaching experience hours; partner with a Mentor Coach; and demonstrate the appropriate understanding and mastery of ICF's definition of coaching, Code of Ethics and Core Competencies.
Research shows a positive link between coaches' credentials and professional memberships, and their clients' overall satisfaction with the coaching experience. According to the 2014 Global Consumer Awareness Study, 93 percent of consumers who recalled that their coach held a credential or certification reported being "somewhat" or "very" satisfied with the coaching experience. According to the same study, 93 percent of consumers who recalled that their coach was a member of a professional coaching organisation reported satisfaction with the coaching engagement.
If you are partnering with an ICF-credentialed coach you can be sure you're working with the best in the industry.
Every day, ICF Credential-holders are helping individuals and organisations achieve their goals. For example, Canada's JOEY Restaurant Group partnered with ICF-credentialed coaches in an effort to address the organisation's No. 1 talent-management challenge: high employee turnover that was stripping the pipeline of high-potentials. The ICF Credential-holders delivered a course of accredited coach training to select senior leaders and managers within JOEY; many of these trained internal coaches went on to earn their own ICF Credentials.
Today, JOEY has more than 540 individuals in its coaching structure. External surveys completed by employees as part of the Best Workplaces in Canada program demonstrate high employee engagement and satisfaction. Al Jessa, JOEY's chief operating officer and an ICF Associate Certified Coach himself, says that the organisation's coaching culture has also become a crucial component in attracting and retaining top talent. "If you take on a leadership role within our company, we will provide a fully funded educational experience that allows you to get educated on the job," he explains. "Once people know that's the kind of leadership culture we have, they realise that there is way more added value in a career with JOEY. We train people in coaching; that's something most companies in our sector are not offering. It has become a massive competitive advantage for us."
To learn more about how ICF-credentialed coaches meet high standards and provide services that help transform organisations, including JOEY Restaurant Group, download ICF's free report, The Hallmarks of Success in High-impact Organisational Coaching Programs, at Coachfederation.org/ACR.
The views expressed in this article are those of the authors and do not necessarily reflect the views or policies of All China Review.