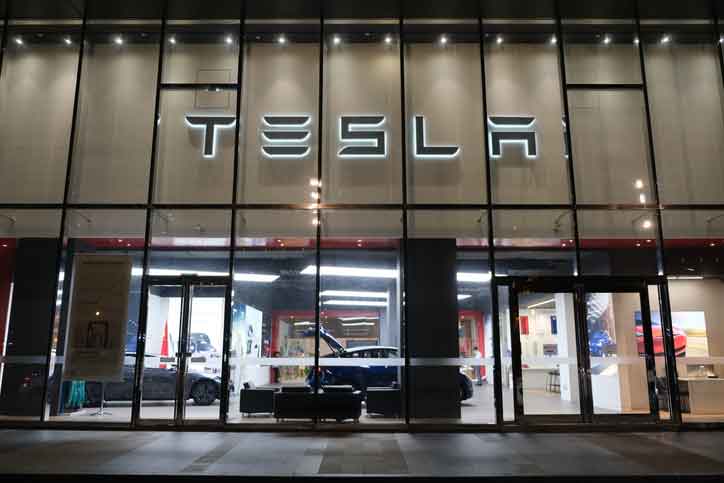 By Eric Harwitt
During an April virtual visit to a South Carolina electric bus maker, President Joe Biden stated U.S. manufacturers should be "the single most significant suppliers of electric buses and vehicles in the world." But he acknowledged that "right now, we're running way behind China." 
Within China's own borders, an American electric vehicle champion, Tesla, has quickly captured significant market share. But while the company has made rapid progress since it opened its wholly-owned Gigafactory in Shanghai in 2019, it faces challenges from domestic rivals, potential security breaches, as well as from Chinese media not clearly supporting the high-tech luxury maker from across the Pacific. 
First, the good news: in April, China's official Global Times newspaper cheerfully reported Tesla's record monthly domestic sales in March, with 35,478 units consisting of 25,327 Model 3 vehicles, and 10,151 recently launched Model Y cars. It noted that China is now the fastest-growing market for Tesla, and that the company, which sold some 137,000 electric vehicles in China in 2020, has become more price competitive as it produces vehicles locally in Shanghai. 
To service the growing number of Tesla owners, in February Tesla began production of its V3 superchargers, which take only 15 minutes to add 200 miles to a car's driving range, at its dedicated supercharger factory in Shanghai. The factory, built at a cost of $6.5 million and completed in less than six months, sits next to Tesla's Gigafactory 3 in the city's Lingang free-trade zone. It's slated to produce some 10,000 superchargers a year, and supplement superchargers made at Tesla's Gigafactory in Buffalo, New York. 
As of March, China had some 6000 supercharger stalls, with the world's largest supercharging station in Shanghai alone hosting 72 stalls. By late May, Tesla listed 692 of such stations spread in virtually every part of mainland China, with another 388 "coming soon." Since December, Tesla has operated charging stations for long distance drivers along the "Silk Road," connecting major cities in the northwest Xinjiang region, while another charging station corridor is available for the Sichuan-Tibet route. 
Despite this progress, Tesla faces increasing competition from a whole host of Chinese electric vehicle makers, ranging from brand new entrants to longtime traditional domestic car manufacturers. Startup electric auto companies such as Xpeng Motors and Nio have recently opened large factories, and have plans to open more. Zhejiang Geely, in business since 1986 and the owner of Volvo Cars, also opened a new electric car factory in early 2021. Germany's Volkswagen, also a long-time vehicle maker in China, is building a third electric car factory in the nation. And global powerhouse Huawei Technologies, maker of telecommunications equipment and smart phones, was reportedly in talks in April to take control of a small domestic auto manufacturer's electric vehicle unit. 
Domestic manufacturers do face challenges. China's longtime electric vehicle champion, BYD Auto, founded in 2003, sold only 179,054 electric and plug-in hybrid cars in a coronavirus-affected market last year, down from 219,353 in 2019. Production volume is also a problem for some of the startup Chinese manufacturers: for example, Nio sold only 7200 cars in January, and by February had yet to make a profit. By contrast, Tesla's 2020 sales, in the nation's fragmented electric vehicle market, comprise some 13 percent of China's 1.02 million electric vehicles produced domestically last year. 
In the face of the established and up-and-coming domestic competition, features such as the availability and speed of Tesla's unique supercharging technology may help attract Chinese electric vehicle customers and keep them within the fold. While Tesla CEO Elon Musk tweeted in late 2020 that "Tesla Superchargers are being made accessible to other electric cars," as of mid-2021 it was unclear whether any agreements with other manufacturers had materialized. 
Some recent concerns about data protection in the Chinese market have come to affect both Tesla and owners of the car company's vehicles. In early March, one of Tesla's supplier factories in Henan province faced a potential challenge when a Swiss software developer hacked the factory's security camera system – but the company's Shanghai car factory was unaffected. In late May, Tesla announced it would establish a local site in China to store car data collected from vehicle cameras and sensors. This came as staff at some Chinese government offices were instructed not to park their Tesla vehicles in government compounds to avoid vehicle cameras collecting secure information. 
A recent spate of Tesla car accidents, broadcast widely in China's media, has also put some question marks on Tesla's popularity in the immediate future. In February, Ms. Zhang Yazhou's Model 3, driven by her father, crashed into two cars. She blamed the accident on Tesla's braking system, and her protest by standing on top of a Tesla at the April 2021 Shanghai Auto Show received widespread media publicity. In May there were several more publicized accidents and crashes, including a Tesla knocking down and killing a traffic officer in Zhejiang province; a Model 3 catching fire in Guangzhou; and a Tesla in Guangxi province losing control while backing up and crashing through a store's glass window. This confluence of events even prompted Tesla to apologize for failing to resolve Ms. Zhang's problem, writing on China's Weibo social networking platform "We will try our best to learn the lessons of this experience." 
This negative publicity may have played some role in April's declining sales numbers for Tesla in China. In contrast to March's record sales, the company sold 25,845 locally made vehicles the following month, but exported 14,174 of those, many of which met demand in Europe. However, in downplaying the importance of Tesla's lower numbers, an official from China's National Passenger Vehicle Market Information Joint Committee pointed out that April is the first month of the second quarter, a time when vehicle deliveries are expected to decline. 
While Tesla faced some headwinds in China in the spring of 2021, the company's track record in the nation has been positive. Tesla moved at lightning speed to grab a significant electric vehicle market share within just two short years. The cachet of owning an American luxury car is likely a key reason why sales grew so quickly, and why Tesla vehicles will continue to be competitive with home-grown models. Moreover, even with the negative press in the Chinese media, CEO Musk has likely accumulated goodwill in China as he expanded his overseas investment even in the face of the former Trump administration's calls to bring manufacturing operations home. Unless significant technical problems are found in the company's vehicles that could tarnish Tesla's reputation, the company's immediate future in China looks bright. And, in an ironic way, Tesla's success will further President Biden's goal of boosting American manufacturing.
The article was originally published on China-US Focus.
About the Author
Professor Eric Harwit teaches at the University of Hawaii's Asian Studies Program and is an Adjunct Senior Fellow at the East-West Center. His work has focused on the politics of industrial development in China. His most recent book, China's Telecommunica.
The views expressed in this article are those of the authors and do not necessarily reflect the views or policies of All China Review.