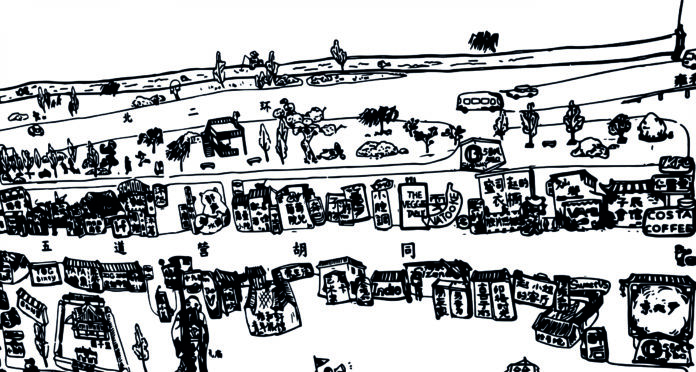 By YinChun Liu
South Luogu Lane is 786 meters long with 8 parallel hutongs on each side. The whole area looks like a huge centipede if one looks at it from the sky. It's located in the Dongcheng district of central Beijing City, very close to the Forbidden City, Tiananmen Square and Jingshan Park.
South Luogu Lane was built in 1267‭ ‬A.C‭. (‬Yuan Dynasty‭), ‬almost 800‭ ‬years ago‭. ‬What makes South Luogu Lane so special is that it reserves the most complete courtyard building of traditional Chinese residences and the chessboard building‭, ‬which is the typical‭ ‬architecture of the Yuan dynasty‭. ‬Many famous historical figures once lives here‭, ‬including‭: ‬Wu Sangui‭ (‬a famous anti-Qing general‭, ‬who is said to have repressed a farmers rebellion for Helen Of Troy‭), ‬Dr‭. ‬Sun Yat-sen‭, (‬The Father of Republic of China‭), ‬and the last Empress Wan Rong‭.
Business Opportunities
Recently, people are finding that there are business opportunities in South Luogu Lane. Hence, they rent the courtyards and open up different kinds of businesses, including food stalls, fancy café shops, restaurants with fusion-style foods, arts shops, boutiques with traditional souvenirs and dim sums of ancient Beijing style.
South Luogu Lane is "the" place to visit for people who are curious about how modern Chinese lifestyles exist alongside the traditional harmoniously.
What is so unique about this area is the coexistence of the old and the new: the 800-year-old architecture and the traditional living style of the traditional Beijingers (who really live in the hutongs and who have become walking props!), mixed with modern people from all over China or other countries, who come to visit and enjoy walking around. All this contributes to a multi-cultural fusion, which is iconic of contemporary Beijing.
You can take a tuk tuk to visit hutong with drivers telling the legends of people who lived here and historical stories that took place in this area, or just walk around yourself to discover this place! You can also enjoy a glass of wine in a historical building whilst surrounded by traditional red lanterns. Compared to Sanlitun, the atmosphere in South Luogu Lane is quiet, natural, harmonious and relaxed. You won't feel the hustle and bustle of Beijing whilst having a good time. Therefore, South Luogu Lane has become the hottest place to visit for people who are curious about contemporary Chinese lifestyles.
If you come to Beijing, you must stop by South Luogu Lane. Come here to enjoy a good meal in a fancy restaurant and listen to the residents telling you stories about their family's 21 generations, or 13 generations, who lived here. How unique, how cool is it. There is no other place like this. I believe it's the one and only in the world.
The views expressed in this article are those of the authors and do not necessarily reflect the views or policies of All China Review.