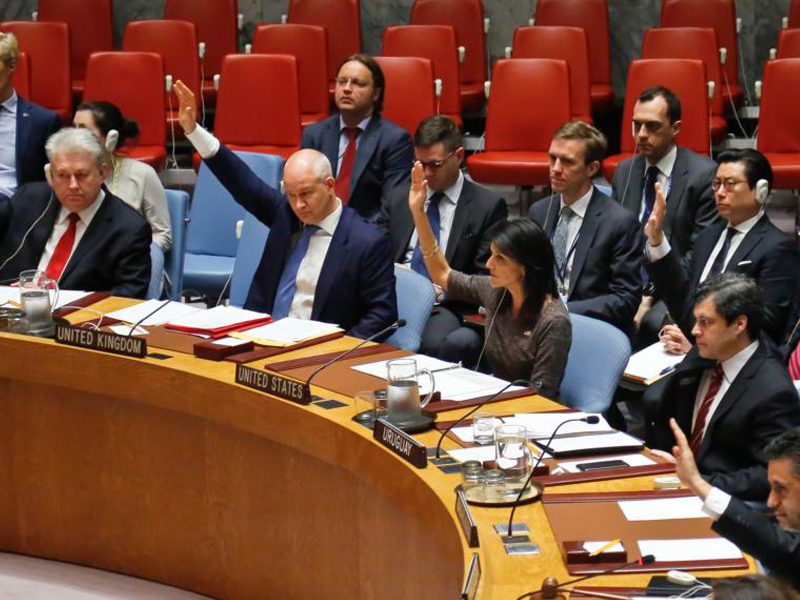 By Peter Koenig
The Democratic People's Republic of Korea (DPRK) is being choked into submission if not starvation by the UN Security Council, by a vote of 15 : 0; i.e. unanimously. None of the 15 UNSC states, let alone the five permanent members, have had the guts to say no to a killer Resolution, drafted and proposed by the United States of America, a name that increasingly stands for international rogue and crime nation.
The New York Times reports on 22 December 2017 – "President Trump has used just about every lever you can use, short of starving the people of North Korea to death, to change their behaviour," the White House homeland security adviser, Thomas P. Bossert, said Tuesday. "And so, we don't have a lot of room left here to apply pressure to change their behaviour."
Two immediate questions come to mind – first, who is Trump to blackmail the UNSC into punishing nations which do not bend to the empire's wishes? Yes, blackmailing, because that's exactly what is categorically part of the chief rogue's international behaviour. Case in point is the recent UN Resolution to nullify Trump's unilateral decision to declare Jerusalem as Israel's capital, when he, the Donald, threatening he would watch closely who would vote against the US, in view of punishing those nations monetarily or with other sanctions; and second, how come Russia and China went along with this literally genocidal program of sanctions contained in this UNSC Resolution?
Both Russia and China know that Washington's arguments against the DPRK are based on a web of lies. That everything coming out of Washington is a lie, or untruth, or omission of facts – is well known around the globe. But in this case, where two ascending super-powers, Russia and China have the veto right to say NO to these illegal sanctions, it begs the question, why' didn't they use their veto?
Even more so, since Russia and China are both also "sanctioned" by Washington for not "behaving", and because Russia and China are natural allies of North Korea. – Why were they going along with Washington's blackmail? – A veto could have sent a clear message to the sort of preposterous Nikki Haleys and Donald Trumps of this world, that there is no more fear of the devil, but that the power plates are clearly shifting away from Washington.
Was it out of fear that the madman could possibly press the red bottom, if provoked? – Voting with the madman is certainly no reason to believe that the Mad Man will not press the nuclear bottom. – Then, what kind of diplomacy is it? – The fear of more sanctions directed at Russia and China? This would be outright ridiculous, as both countries, founders of the Shanghai Cooperation Organization (SCO), are almost fully detached from the western dollar economy and are heading a new economy that already comprises about half of the world's population and one third of the globe's economic output. Hence, they can function fully independently from the west. There are no fears of sanctions either.
Then why?
About the Author

Peter Koenig is an economist and geopolitical analyst. He is also a former World Bank staff and worked extensively around the world in the fields of environment and water resources. He lectures at universities in the US, Europe and South America. He writes regularly for Global Research, ICH, RT, Sputnik, PressTV, The 4th Media, TeleSUR, TruePublica, The Vineyard of The Saker Blog, and other internet sites. He is the author of Implosion – An Economic Thriller about War, Environmental Destruction and Corporate Greed – fiction based on facts and on 30 years of World Bank experience around the globe. He is also a co-author of The World Order and Revolution! – Essays from the Resistance.
The views expressed in this article are those of the authors and do not necessarily reflect the views or policies of All China Review.